Oops!
Start Date is not before End Date

6:30 PM - 8:00 PM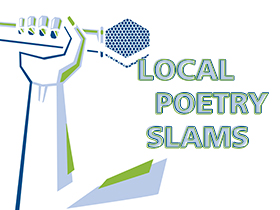 Location: The Gathering House, 733 W Garland Ave, Spokane, WA 99205 (
map
)
Top placing poets from the Northern and Valley Slams perform in this Grand Slam competition. You're invited cheer on these talented high school students as they perform original poetry on stage. The panel of judges will feature local writers and literary enthusiasts.
Sponsored by The Library Foundation of Spokane County
View More
4:00 PM - 6:00 PM
North Spokane
Meeting room
Republic of the Marshall Islands ej kojerammon raan in Jemenei ilo Mae 1, im kim naj kojerammon raan in ibbam ilo wiiken in tok. ltok im mona, roiijak kojaiijaii, im lale makutkut ko. Kenono ibben armij ro jen doulul ko ilo jukjukinbed im katak kin jerbal in jibaii ko rej kommani. Enaj war bok ko jen laibrarae ilo Kajin Majol nan am bar kojerbali.
Aoleb joiian iio ko
The Republic of the Marshall Islands celebrates its Constitution (Jemenei) Day on May 1, and we're celebrating with you on the very next weekend. Drop in for food, live music, and activities. Meet folks from community organizations and learn about the services they provide. We will have library materials in Marshallese for check out as well. All ages
View More